Information Technology and Communication Board (BTK) determined that there were at least 10.6 million mobile internet users in Turkey by the second quarter of 2012, which is double the amount year on year. That means there are throngs of people who think anything that they cannot execute through mobile is frustrating, a sign that the institutions in question failed to catch up with the times. That is how the consumers roll: If they demand it, you'd better serve it!
Mobile professionals often hail the Turkish banking sector for leading the mobile revolution, and users join them by carrying banking apps to the top of the charts. In February 2012, comScore released a whitepaper on USA's use of online and mobile banking use for 2011, which revealed that 65 million customers from top 10 banks engage in online banking. Mobilike conducted a similar research for Turkey this year based on second quarter reports from The Banks Association of Turkey (TBB), according to which the number of customers using mobile banking has grown by 68% in the last year. In addition to this:
The number of credit and credit card applications on mobile grew by 292%.
The number of transfer transaction on mobile grew by 118%.
The volume of money transfer over mobile grew by 140%.
The number of payments on mobile grew by 217%, and the volume grew by 192%.
The number of investment transactions over mobile grew by 248%.
The volume of foreign currency exchange over mobile grew by 641%.
Turkish consumers, who quickly download and effectively use every kind of mobile apps, push the banks towards developing better and more useful applications.
We rounded up the essential mobile banking apps of Turkey for a comprehensive review.
[heading style="1″]GARANTİ BANK[/heading]
It is safe to claim that Garanti Bank is the leader in mobile banking. Globally. In 2004, the bank started a first with CepBank (literally, PocketBank), and continues its mobile journey with several applications. "Keeping in mind the commitment and loyalty the new generation shows towards mobile devices, we believe in going mobile," said Executive VP Didem Dinçer Başer, and noted the range of mobile finance applications—downloaded 1.5m times to date—are accessible through garanti.com.tr.
Başer said that, according to second quarter data from the Union of Turkish Bar Associations, 36.63% of all mobile customers are registered to Garanti Mobile Banking, and half of all mobile users prefer Garanti Mobile Banking for their financial transactions.
That is not all! Garanti Bank entered the highly anticipated Windows 8 scene rather fast, and Başer says Garanti is the first bank to develop a financial tools app for Windows 8.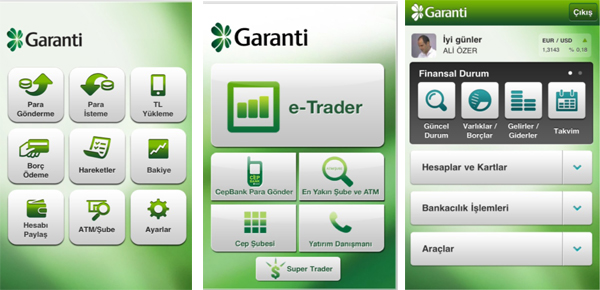 Garanti introduced Garanti Mobile Banking in 2007 with wap.garanti.com.tr, which ran on any phone that could connect to the internet. The bank continues to provide browser-based service and sees it as a way to reach out and touch all customers.
Mobile customers can, on the other hand, check on their personal finance tools through the iPhone, iPad, and Android apps. The Garanti Mobile Banking apps, which have been downloaded over 400.000 times since April, can be accessed through all mobile operators free of charge, and the transactions incur no extra charges.
e-Trader is the first app for investors to buy and sell stocks and TurkDEX derivatives. It has been downloaded on iPad, Android, and Blackberry by 220.000 people, and lets the user watch the stock market and TurkDEX index live, check portfolios instantly, and exchange stocks and TurkDEX derivatives.
CepBank iPhone and Android allows the user to send or request money, top-up prepaid mobile lines, pay credit card bills, and instantly transfer money with "Bump to Transfer". The "Bump to Transfer" feature lets customers send money for free through keeping two phones in close proximity, even when the recipient is not a Garanti customer, in which cases the transferred money is redeemable in any Garanti Paramatik. The application is available for free and has been downloaded by 120.000 people.
Şifrematik is a single-use PIN generator app for iPhone, Android, and Blackberry, and has been downloaded by approximately 370.000 people. The application provides additional security on internet and mobile banking transactions through asking for a passcode before login and certain large transactions.
Customers can use Smart TV apps to apply for credit while watching the market news on TV. The CepBank apps on Facebook and Twitter enable users to send money to contacts, top-up mobile phones of associates, and even split a dinner check among friends. A desktop app developed by Garanti lets anyone keep up with market news, reach stock information, and apply for a Garanti credit card.
Garanti Bank adapts to mobile payment methods by providing blogs and websites with a new income model. CepBank Widget allows instant money transfer over mobile phones, and the site that facilitates the transaction is involved in revenue sharing.
[heading style="1″]İŞBANK[/heading]
İşbank has two mobile apps, İşCep and İşPad.
İşCep is available on iOS, Android, Java, Bada, Phone 7 mobile operating systems working on more than 1.300 devices, and have been downloaded by over a million users, according to İşbank Manager for İşCep App and Alternative Distribution Channels, Sedat Tosyalı.
The İşPad app is available on iPad, Android, and Playbook tablets, and—as a first—on desktop Mac OS computers. It was released in 2010 and has been downloaded by over 100.000 users.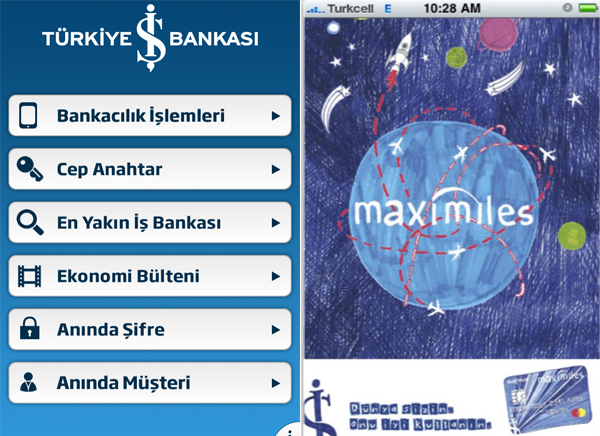 Additionally, İşbank offers some other popular apps like İş'te Yatırım for investor operations, İş Sanat for art and culture activities the bank sponsors, Maximiles Picture Talk the travel companion for globetrotters. Tosyalı notes that, all the İşbank apps combines have been downloaded by over 1.5 million users.
[heading style="1″]HSBC[/heading]
HSBC does not yet have a Turkish mobile app, but they are ready to make way. HSBC Turkey Head of Retail Banking and Wealth Management Taylan Turan says that they are aware of the rapid adoption of internet and mobile banking in Turkey, and reminds us that "In the last year alone, internet banking users rose by 20% nationally, and mobile user by 70%."
HSBC internet banking is used actively by 400.000 customers, and more than a million users benefit from internet banking in a year. "In our alternative channels, we prioritize user-friendliness, comfort, and ease, thereby, customer experience and customer security," says Turan, and notes that, through a global contract, HSBC is offering a copy of McAfee security software to HSBC internet banking customers for a year without charge.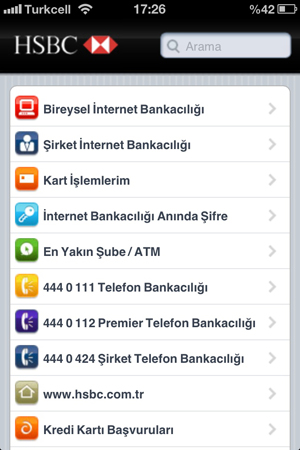 This strategy has won them the Global Finance Turkey's Best Consumer Internet Banking award twice, in 2008 and 2011. "We employ the same strategy in our mobile banking investments. Currently, our customers can use our internet banking channel through an interface optimized for iPhone and iPad. Additionally, we will bring together our worldwide mobile banking experience and Turkey's local user habits through a mobile banking channel we will launch soon."
[heading style="1″]DENİZBANK[/heading]
DenizBank currently offers 7 different apps which have been downloaded close to 100.000 times, according to DenizBank SVP Mobile Generation Banking Murat Erdağ.
DenizBank iPhone application gives access to various DenizBank products and services like online market information, applications, and contact information for branches and ATM. DenizBank iPad carries the phone experience to the tablet. CepParam is money transfer utility which allows anyone to receive payments and either withdraw that amount at a DenizBank ATM or transfer it to yet another account. DenizBonus is an application to keep up-to-date with credit card campaigns, which the user can search and filter based on sector and brand, save favorites, and locate the closest one on a map. Taraftar Yap is a game on iPhone, which creates fun interactions through Facebook and phone photo galleries, and lets users apply for a soccer fan credit card line called DenizBank Taraftar Kartları. ŞifreTek Mobil is a single-use PIN generator to be used for AçıkDeniz online banking. Sıramatik is an app for getting a queue number digitally, but it will also show the user the nearest Denizbank branch, its current occupancy, and how many minutes are estimated remaining until the queue ends.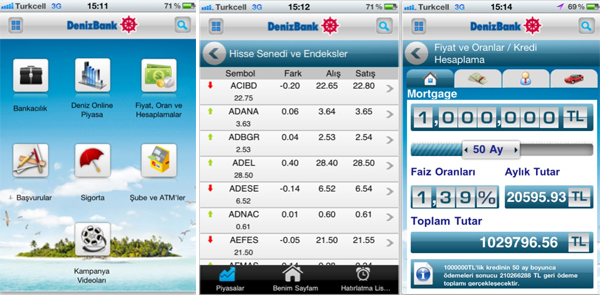 [heading style="1″]AKBANK[/heading]
Akbank has—excluding SMS banking and the mobile app Akbank Direkt Mobil launched last month—9 mobile applications. Through applications like Yatırımcı, Kredi, Akbank Sanat, Panik Yok, and Cep Bütçem, every user, whether an Akbank customer or not, can check stock, currency exchange, and TurkDEX rates with a three-minute delay; read current interest and credit rates; follow the most important art activities in cities across the country; get guidance on how to act after a traffic accident; and manage their budget. "We are the the first bank to launch an iPad app in Turkey," says an Akbank representative about their apps Akbank Yatırımcı and Wings Gezgin, and adds that, "furthermore, by using the service we launched mid-March, Turkcell Cüzdan, our customers can transfer money over mobile phones, and top-up mobile lines."
The Akbank team says the mobile banking app Para Gönder, launched last year in May, is a first in Turkey. "Through Para Gönder, our customers can use an application they have installed on a mobile phone with internet connection to send money from their Akbank accounts or credit cards to other Akbank accounts, Akbank ATMs, or any other credit cards, over all mobile operators and within 20 seconds. This is one of the easiest money transfer tools in the world, and over 150.000 Akbank customers have installed the app on their phones."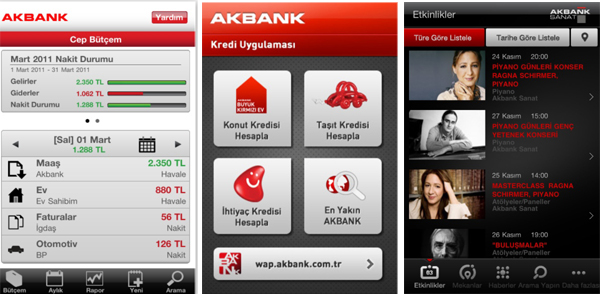 Akbank Direkt Mobil "is another first in offering a single-password access to mobile banking services. Through the app, holders of Axess, Wings, and Fish credit cards can execute banking operations by using their card information. By using Akbank Direkt Mobil, Akbank customers can finish various banking operations with ease, from money transfer to investing, displaying account activities to checking on credit card expenses, currency exchange to sending payments like utilities, OGS, mobile phone bills, and credit card bills. Since its launch, Akbank Direct Mobil has received tremendous attention, and made its way to the top of the Top Free charts in the App Store within the first 6 hours to remain there uninterrupted for three days."
This report by Fulya Çimen, originally published in sosyalmedya.co in Turkish, is adapted into English by Süleyman Okan.